We Did All That
Legacies of Mercury, Gemini, Apollo… and Where We Are Today
During the 1960s and the early 1970s, America's manned space program was indeed a by-product of the Cold War. But it was much more than just a Cold War stunt.  It challenged the nation to perform beyond what many believed to be impossible. It gave the nation lofty goals, a sense of profound accomplishment and a sense of purpose even though much of it took place during a time of great upheaval and war.
Think of what could have been had the best of our manned space efforts not fallen before the pencils of bean counters and inauthentic leadership.
At a time when it is obvious our adversaries plan on using space not as a venue for peaceful exploration but as the next – and final – battlefield, only authentic and competent leadership can once again make our manned space effort the top priority it should have been all along.
Project Mercury
Outline of Mercury missions completed between 1961 – 1963.
Project Gemini
Outline of Gemini missions completed between 1965 – 1966.
Project Apollo
Outline of Apollo missions completed between 1968 – 1972.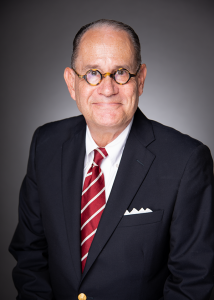 John P. Schreitmueller, PCC-BC
Managing Partner
John P. Schreitmueller, PCC-BC (Professional Certified Coach – Board Certified) founded Resolute Consulting Group, a concierge executive coaching practice, in 2003. He has been in practice for 32 years.
Mr. Schreitmueller earned a BA degree (1975) at Southern Connecticut State University along with a commission as a United States Marine Corps officer through the Marine Corps Platoon Leaders Class program. He commanded an infantry rifle platoon overseas and flew missions in Marine Forward Air Control (FAC) aircraft.
Following military service, Mr. Schreitmueller advanced as an executive at Texas Instruments, Inc., Beech Aircraft Corporation and American Airlines' Sky Chefs, where he led successful multi-national ventures and acquisitions in Europe. Prior to founding Resolute Consulting Group, he served in top leadership roles in the executive coaching and consulting field as a Partner and Senior Vice President at Reedie & Company LLC, and as a Partner/Practice Lead of the global search firm Ray & Berndtson.
Mr. Schreitmueller completed graduate studies (GC, 1994) in marketing at the Edwin L. Cox School of Business at Southern Methodist University. He subsequently served as an adjunct faculty member at the Cox School, where he taught Executive Career Management within the school's MBA and EMBA curriculums.
Mr. Schreitmueller is also a graduate (2000) of the noted Program on Leadership for Senior Executives at Harvard University, the John F. Kennedy School of Government.
He holds advanced credentialing as a Professional Certified Coach through the International Coach Federation (ICF), and is Board Certified with specialty practice competency designations in Executive Coaching, Leadership Coaching and Career Coaching through the Center for Credentialing and Education (CCE). His practicum-oriented training spans executive behavior, development, career transition, active retirement transition and divorce transition.
Mr. Schreitmueller holds an FAA Commercial Pilot's license and has logged thousands of hours in high performance turbine aircraft.  His book, Of Dreams and Astronauts, a narrative on leadership and the Mercury, Gemini and Apollo manned space programs, won critical acclamation and the Aviation/Space Writers Association Award of Excellence for Nonfiction Journalism.
He is featured in print media, on radio and television, with guest appearances on CNN International, XM Sixties at 6, MSNBC, and The NBC Evening News with Tom Brokaw. 
Mr. Schreitmueller is a member of the International Coach Federation, The American Psychological Association, The American Mental Health Counselors Association, the Marine Corps Association, the Aircraft Owners and Pilots Association, the Harvard Club of Boston, the International Churchill Society, and he is an active polo player rated for competitive play by the United States Polo Association. He resides in Naples, FL.